Once again, the global superpowers have been crushed in the medal count at The Olympics.  The Goliaths of the United States, China, and Russia  have fallen before the wrath of  an archipelagic David a.k.a The Commonwealth of The Bahamas.
Laugh if you dare but, to paraphrase this writer, The Bahamas is the Godzilla of The Olympic Games.  Really???  Yes, really!!!
How Come?
The method for determining the 'winner' of the Olympics is subjective, some argue in favour of Total Medal Count.  Using this method the country with the most medals 'wins'. Other people believe that the country with the most Gold medals is the 'winner'.
A better (from our viewpoint) way is to divide the population by the number of medals won by its athletes. (MPC)  Why?    This method evens out the respective populations of various countries.  India and China each have over 1 billion people.  Their pool of potential athletes is huge.  Large countries also compete in more sports, so their advantage in medal counts is that much greater.
This is what makes The countries like  The Bahamas and Jamaica sporting superpowers.  A high number of Olympic medals from a very small pool of potential athletes.  Still unconvinced?  Go here to see the MPC rankings of the 2008 Olympics.  The Commonwealth of The Bahamas is number 1. Jamaica is number 2, Iceland is 3 and The United States is ranked 46 while China is in 68th place.
In the 2008 games Jamaica had the best MPC for Gold medals.  We can only wait for the MPC  to be calculated for the games of 2012, but all MPC charts show that the Bahamas has been ranked in the top ten since the 2000 Olympics.
I can already hear the howls of outrage, the denials and attempts to refute the evidence but the facts are undeniable.  For all those out there who wish to continue their angry disbelief,  heed the words of a wise and noble man who once said,
"Don't hate the Players"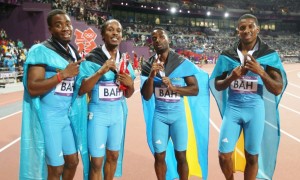 Hate The (Olympic) Games